Our Products
What makes Surgical Holdings Veterinary Instruments the best value on the market…read about our exclusive finishes and steels
We are accountable for what we manufacture, the materials we use and are passionate about ethical manufacture through our supply chain. We have a Labour Standards Assurance System, which is mandated by the NHS Supply Chain, to ensure continual improvement of ethical supply and labour standards.
Quality Systems
Surgical Holdings are accredited to ISO 9001, ISO 13485 and the Medical Device Directive 9342EEC for Orthopaedic Implants.
Our Steels
Surgical Holdings stainless steel instruments are manufactured in accordance with BS 5194 - Stainless Steels for surgical instruments http://www.bssa.org.uk/topics.php?article=132
This ensures every instrument has the correct composition, to ensure they can be fit for purpose and perform the action they were designed for.
View our video for a bit more information https://youtu.be/HlinIIy1ZjM
We select the highest grade steels, for the best long term value for our customers. As part of our ISO 13485 quality system, we ensure we have access to material mill certificates and as part of our proactive objective quality assessment, we send off routine batches of material for 3rd Party testing and verification. This ensures our customers receive the instrument they ordered, manufactured from the correct steel, as per BS 5194.
British Manufacturer
We are the innovative British manufacturer of Surgical Instruments, with over 50 years industry experience and a focus on education and apprenticeships for the new generation of instrument technicians
Exclusive Design
Surgical Holdings New Duo Surface Finish is applied across all our general veterinary surgery theatre range of instruments. This new finish, has been developed by looking at what is important in a modern day surgical instrument:
Reduce glare - The back half of the instrument is highly polished to remove and imperfections and marks; only then will it have a light wet bead blast applied to it, to give a distinctive high end finish.

The working end is bright polished by our expert instrument finishers. This addresses the requirement for enhanced cleaning efficacy. Bright polish is the best finish to ensure corrosion resistance on the instrument and a smoother finish also ensures reduced protein and biofilm adherence to the surgical instrument

This design has been exclusively Design protected by Surgical Holdings and is only available through us or an appointed distributor

Many of our instruments will also have distinct design differences with the user and patient in mind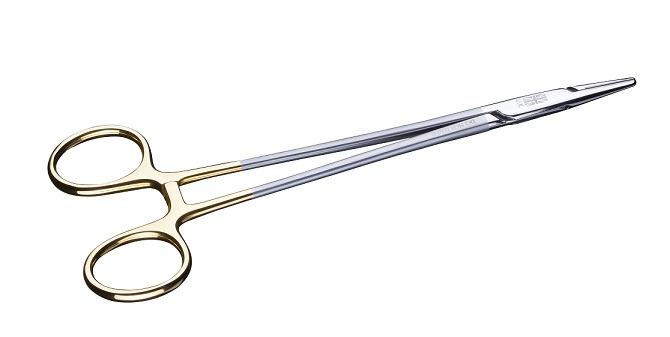 Washing and Sterilising
To ensure your Surgical Holdings instruments remain in optimum working condition and cleanliness, please follow our reprocessing guidelines